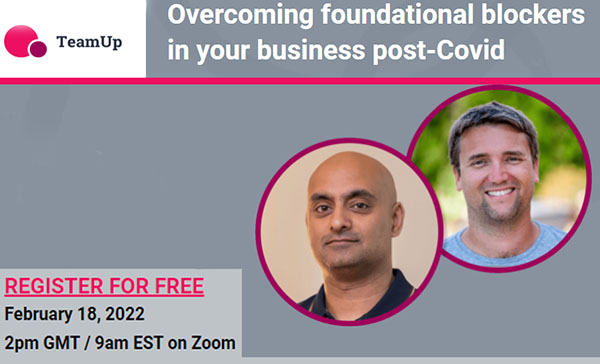 TeamUp hosts a free online coaching session for fitness business owners to help them grow
TeamUp – a provider of gym management software – is hosting a free online event "Unlock Your Business Potential Coaching Session" on the 18thand February, led by Tim Green of TeamUp and Nicky Sehgal of the Fitness Business Development Academy.
COVID-19 has made growing a business a much more difficult challenge than it already is. As business owners struggle to survive the lockdowns of the pandemic, growth and development in areas such as finance, people and systems have been put on the back burner.
2022 is a new opportunity for owners to unleash their business potential and this interactive coaching session aims to help jump-start business growth by learning how to overcome fundamental obstacles to doing business.
The coaching session will explore:
How to identify where your business is currently located
How to increase profitability in 2022 step by step
How to Improve Admin Delegation to Free Up Your Time
How to reframe the competition and focus on internal growth
Why investing in your people and leadership will help you be more successful
Attendees will receive appropriate strategies to help unlock these fundamental barriers and case study examples of business owners using TeamUp and the FBDA to manage and grow their businesses this year.
Who is this coaching session for?
Ambitious business owners, on their path to success, who want to better manage the complexity of their business and unlock their potential for growth and increased revenue and profit.
About the hosts:
Tim Green is marketing manager for TeamUp, a recommended fitness management system for gyms, studios and personal trainers. With over 20 years of marketing experience and 10 years of helping fitness business owners run their businesses, he has a unique perspective on how to succeed and thrive in the ever-changing fitness industry.
Nicky Sehgal is an expert business coach and owner of the Fitness Business Development Academy, a coaching and training organization whose mission is to help coaches and trainers build profitable fitness businesses that work for them.
Why attend this coaching session:
TeamUp notes that "Asking for help is one of the biggest problems business owners face. The pandemic has left everyone feeling isolated, burnt out, and short of idea generation. Even with the right systems and tools at their disposal, the impending fear of being pushed back makes it increasingly difficult to focus on anything other than maintenance.
"In the hour you join us and even after we're done, we'll be the support and encouragement you need to focus on growing your business. Not only will you leave this session with a better understanding how to successfully grow in key areas of business development, but also with the tools and resources you need to unlock your business potential."
Cost: This webinar is free. All you need to do is register.
Date/Time: 18and February 2022, 2:00 p.m. GMT / 9:00 a.m. EST
Free registration
Related Articles
November 18, 2021 – TeamUp shares its 2022 emerging fitness trends
October 5, 2021 – TeamUp Launches Free Online Marketing Mini-Course
August 5, 2021 – TeamUp launches new appointments feature for personal trainers
April 4, 2021 – TeamUp launches a new on-demand library for its customers
December 29, 2020 – TeamUp shares information on accessing and delivering fitness classes in 2021
---
Support our industry news service
We hope you enjoy the news we post, so while you're here can we ask for your support?
As an independent publisher, we need reader support for our industry intelligence gathering, so ask – if you're not already – to support us by subscribing to the print version. Australasian Leisure Management magazine and/or our online news.
Click here to see our subscription options.