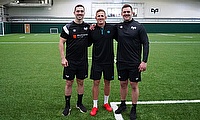 Reconnecting with rugby, coaching online and solving Wales' problems
Ben John alongside former Ospreys teammates George North and Dan Lydiate
©Ben John / The Rugby Coach
Ben John explains his decision as to why he decided to bring rugby back into his life.
At the age of 27, and after a year out after suffering a series of head injuries, the Ospreys fullback made the choice to retire from the sport.
"When I retired, I did some personal training," says John. "I had two years of virtually no rugby at all. I didn't watch rugby or anything like that just because I was so busy!
But that close bond he once had with rugby needed to be rekindled. If there's a silver lining to be taken out of the Covid-19 pandemic, then perhaps John's reintroduction to the sport is one of them.
After leaving the world of personal training in September 2020, John is now thriving as a skills coach and content creator under the title 'The Rugby Trainer'.


"I would have been happy and excited about what I was doing with personal training," adds John. "The gym [Manor Gyms] where I worked was also amazing, but the lockdown gave me the opportunity to have some time to rethink what I wanted to do.
His reintegration into the rugby bubble was gradual. Due to the concussions he suffered during his playing days, the 30-year-old says he cannot play full-contact rugby. He therefore chose to get involved with the rugby union team, The Cowboys.
A training opportunity also presented itself at Old Alleynians RFC in South East London and with 'The Rugby Trainer' concept following close behind, John had once again surrounded himself with rugby.
"When I was in personal training, I was literally at 6 a.m. and coming home at 9 p.m.," says John. "I like to work hard and work long hours and do shift work. I think that's something I've learned from my rugby career if I'm being honest and it's helped me with what I do now."
Listening to John, you get the sense that he was always self-aware when it came to improving, a trait he would later admit to having had during his professional career with the Ospreys. .
His passion for analysis and skill is why 'The Rugby Trainer' continues to grow, and John's affiliation with his rugby team and the Old Alleynians underscores this too.
As he was starting to reconnect with rugby, John came across Veo – a world leader in AI-powered sports recording and analysis – and he decided to use one of their cameras during training sessions and match scenarios.
"I just wanted to get back into rugby and saw Veo and thought it would be pretty cool to test him out as I had done a lot of analysis myself as a rugby player," John continues.
"I started playing tag and knew Veo could work, so I tested it out in the park and it was amazing! I was blown away by how easy it was to pick up, how quickly it set up place and ease of processing and uploading online, then sharing it with players.
"I think it's an amazing tool for a team environment and also it's an amazing tool to improve because a lot of people think they're doing something, but in reality they're not. what they think. It's always good to have the camera just to help develop their skills or their reading of the game or their rugby in general.
With Veo and video work ticking a lot of boxes for John, it's no surprise the former center has shaped that into a career that is now going from strength to strength.
With the help and reassurances of former teammates such as James Hook, Rhys Webb, Ashley Beck and George North, his rugby-focused drills have led to over 80,000 people following his work on Instagram.
"Everything slowed down during the lockdown, didn't it? John says. "Everything has gone online. I had a little more time to myself and just started doing a little more rugby content. I teamed up with Rhys and Ashley and we did some line rugby drills. The technical element is something that has always fascinated me since I was young. I just started getting the buzz back for rugby.
"Rhys and Ashley have been a huge help especially with the whole coaching side as I was out of rugby for two years and coming back with them was brilliant. First of all you miss the social side so just being able to catch up with the guys, talk to them, talk rugby with them was pretty nice.
THE GREAT GIFT??

YES! It's here, #TheGameChanger GIFT with @HarlequinsWomen
& @jessbreach
WIN 4x TICKETS for the Game Vs @SaracensWomen on February 5 and get your hands on a shirt signed Quins ??
Just fill out the form belowhttps://t.co/aMZ4c1vIvO pic.twitter.com/3s9iCmVbp8

— Ben John (@therugbytrainer) January 28, 2022
"Besides that I had a lot of other players like Leigh Halfpenny, James Hook, a few England guys too and some girls which was great. From there it just grew and grew and I started attracting a lot more professionals and it made a big difference.
John's regular social media posts – as well as his interactions before, during and after sessions – seem day and night hence his relationship with rugby in 2019.
He admits that since launching 'The Rugby Trainer' he has started watching a lot more rugby again, keeping a close eye on the Gallagher Premiership and of course, Ospreys, where he made 79 appearances for the Welsh region.
And John will make the return trip to South Wales this weekend to watch the national team take on Scotland in the Six Nations.
During his career, John has graced the pitch of the Principality Stadium as part of Judgment Day [where all four Welsh sides play] and while he expects the atmosphere in Cardiff to be noisier than ever on Saturday, the state of the game in Wales is becoming increasingly worrying.
The Six Nations champions' passivity in their first loss to Ireland – less than 24 hours after the U20s were hammered 53-5 – has once again raised alarm bells over the direction Welsh rugby is heading.
The progress of the Irish national team is reflected in the performances of their provinces both domestically and in Europe, with Leinster being the core of Andy Farrell's squad.
Everything is aligned and transparent for the Irish boss while for Wales the fractured relationship between the WRU and the clubs could take some time to mend.
Welsh regions' performances over the past decade have been disappointing, but when it comes to the Six Nations, Warren Gatland – and last year Wayne Pivac – managed to guide Wales to Grand Slams and titles despite the problems behind the international curtain. .
The successful squads that Wales have assembled over the past 10 years have been littered with star names, but because a group of these remarkable individuals are missing from the current Pivac squad, it has now revealed a player pathing issue that John says needs to be fixed.
"Obviously we have to improve the results of our regions," says John. "Irish teams are all doing well and that is starting to transfer over, to apply to the Irish national team. I know we have been through 10 years of very good results, but now is the time to look ahead and continue to grow, so that's definitely something the WRU needs to address.
"I think they need to focus on how we capture a lot more players and also have a pool of players. I think even though Wales won the Six Nations somehow , I still think we have to sort this out because we want to look ahead, we want to know who's next, who's passing and that's something every nation is watching.
For John, all is not bleak despite a "far from ideal" start to the tournament. He believes the long injury list Pivac has to deal with actually gives Wales a chance to bleed new names with the World Cup just under 18 months away.
"I think it's a great opportunity for players who are currently playing to get some experience," he added. "Yes, you can look at the depth, but there are a lot of new faces and especially with the World Cup coming up soon, it's actually a good time now to build on that. We don't really want those six months are absent from the World Cup.
"We are really delighted to be packing out the Principality Stadium for our first home game of the Guinness Six Nations 2022. It doesn't get any better.?

Listen to head coach Wayne Pivac as he discusses his selection for Scotland this weekend. #WALvSCO pic.twitter.com/dBFH0oJ39p

— Welsh Rugby Union?? (@WelshRugbyUnion) February 10, 2022
"Guys like Taine Basham have and can just step it up, for example. Over the next few weeks the team will settle in a lot more, they'll get used to playing with each other. The combinations too, it takes time.
The catalog of absentees in the Welsh side meant that one of the 'combinations' Pivac tried last weekend was to move Josh Adams from the wing to outside center alongside Nick Tompkins.
John got on well with the British and Irish Lion who have been isolated on several occasions in Dublin, but the Wales boss has returned to a more familiar partnership for their crucial meeting with Scotland.
Owen Watkin will replace Adams – who is ruled out with a tight calf – while Jac Morgan will earn his first senior international cap. Joining him in the back row is Ross Moriarty and Alex Cuthbert is selected on the wing in one of four changes.
"Whatever the team, I think the guys being at home, I think it's been a stronghold for years," John concludes. "I haven't been to a Welsh home game with a crowd in a long time so I'm really excited and I just think with the Six Nations and with Cardiff I think it's going to attract the players and everybody. going, which can only be a good thing.
A lucky club will also be able to win a Veo camera and a free one-year subscription in an upcoming contest. Stay tuned to @TheRugbyTrainer on Instagram for more details.