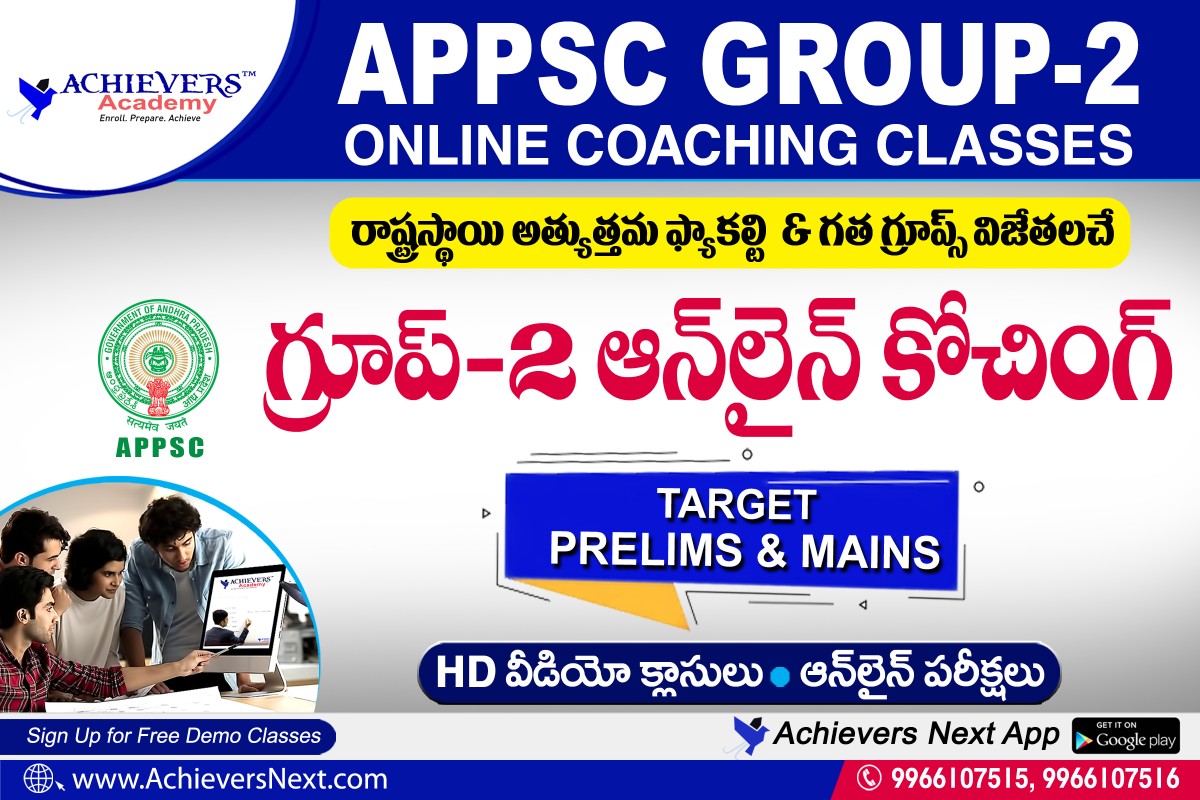 Best Online Coaching for APPSC Group 2
Post views: 746
Achievers Academy brings the
Best Online Coaching for APPSC Group 2 in Telugu for Prelims and Mains which includes over 1200 HD+ video lectures by subject matter experts, online tests covering all topics and mock tests to help you prepare effectively.

APPSC Group 2 Online Course is specially designed by subject matter experts and previous Group 2 toppers for aspirants. This online Group 2 coaching course helps you clear all concepts and introduces advanced level study methods for students looking forward to taking the APPSC Group 2 exam in 2021. This course can give you a boost required for APPSC Group 2 preparation with the help of its smartly organized video lectures and practice tests. The course is available in Telugu and English for your ease of learning.

Key Features of the APPSC Group 2 Online Course:

HD Video Lectures: Our team is comprised of state-level experts who have created in-depth video lectures with an integrated approach so you can gain in-depth knowledge on all program topics.
Section tests: Our online coaching courses include section tests by subject to help you practice, learn, review and clarify all concepts.
Big Mock Tests: This course includes a series of online mock tests called Big Tests with detailed analysis and ranking to help you analyze your caliber and modify your strategy accordingly.
Discussion forum: You have free access to our dedicated discussion forum where you can ask all your questions related to the exam and the subject.
How to buy "APPSC Group 2 Online Course" in Telugu?

Ans: You can follow these steps to buy Telugu group 2 online courses:

Go to https://www.achieversnext.com/s/store/courses/APPSC or download AchieversNext Mobile App and login with your account details. If you are a new user, please create an account first.
Choose the APPSC Group 2 online course from the options provided.
Choose the validity for which you want to buy the course.
Click add to cart. Fill in your shipping information and payment details, then proceed to checkout.
You can also pay by credit card, debit card, Google Pay and Paytm. Once we receive payment confirmation from you, the course will automatically be added to your dashboard.