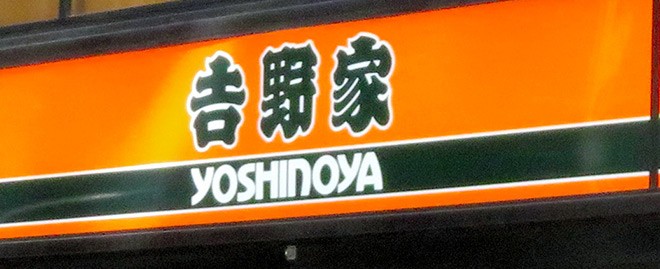 Yoshinoya fires marketing guru over 'addictive virgins' remark
A chief executive of the Beef Bowl Yoshinoya Co. restaurant chain was fired for saying the company's marketing strategy for young women in the countryside amounted to "making innocent virgins" addicted to stimulant drugs.
Yoshinoya Holdings Co. said on April 19 that Masaaki Ito had also been removed from his position as general manager of the fast food chain's parent company.
Ito came under fire after giving a speech at the "Comprehensive Marketing for the Digital Age Seminar" held at Waseda University in Tokyo on April 16.
According to online reports, Ito hinted that young women in rural areas are unfamiliar with food, so the company is trying to get them hooked on beef bowls as soon as they enter urban centers.
The strategy is to "make young women who have just arrived from the countryside and still don't know what to do addicted to beef bowls while they are still innocent virgins", he said.
The public relations division of Yoshinoya Holdings confirmed that the reports on this remark were accurate.
"It is true that (Ito) made a comment to that effect," the division said.
The company said Ito's comments were "extremely inappropriate for someone in his position and are absolutely unacceptable from a human rights and gender perspective."
Yoshinoya Holdings said it could not confirm another comment Ito made during the seminar.
It was reported online that he said, "(Young women) stop eating (beef bowls) after they get men to buy them expensive meals."
The PR division said: "We don't know the details (about this comment)."
Ito was formerly a vice chairman of US consumer goods giant Procter & Gamble Co.
He joined Yoshinoya as a strategy advisor in 2018 and became general manager later that year.
A well-known marketing expert, Ito has hosted webinars on the subject and led Yoshinoya's marketing business.
He issued a written apology to the university on April 17.
Waseda University also apologized in a statement released on April 18.
"Part of the speaker's comments were inappropriate as they may amount to gender discrimination and a violation of human rights," the statement said. "We sincerely apologize as the organizer of the seminar."
The university said it has no plans to hire Ito as a lecturer for future seminars.
Yoshinoya also canceled an April 19 event to mark the start of sales of "oyakodon" (a bowl of rice topped with egg and chicken) that he had spent about 10 years developing.
The new element is the company's attempt to make its meals more appealing after raising prices for beef bowls and other dishes last year in response to rising ingredient costs.
"We have decided not to hold the event given what happened," a company official said.
Still, Yoshinoya began serving oyakodon on April 19 as scheduled at its restaurants across Japan.
(This article was written by Yuji Yamashita, Etsuko Akuzawa, and Kazumi Tako.)